Thorsten Knaub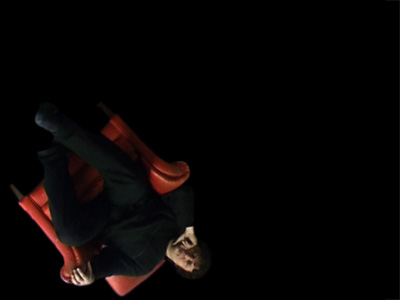 Sitting While Thinking While Drifting While Vanishing (2002)
Single-channel video projection
DVD PAL 4:3, stereo, 5:48 min, loop play
Mini-DV Master
The video Sitting While Thinking While Drifting While Vanishing is part musical interlude and part philosophical musing.
The artist seems to fade into the void
as he moves in an apparent state of weightlessness further into the distance. Eventually we only perceive a collections of pixels reminding us of the initial image of the artist until there is only a blank, black screen left. At least until the new loop begins the propcess anew.
Underpinned by extracts from Frédéric Chopin's Piano Sonata No. 2 in B♭ minor, 3rd movement Marche Funebre, the video explores ontological themes in age of digital representation.
Exhibition history:
LESS IS A BORE, HUMANS NEED MORE!
7 July - 18 August 2002
The Mission, London