Thorsten Knaub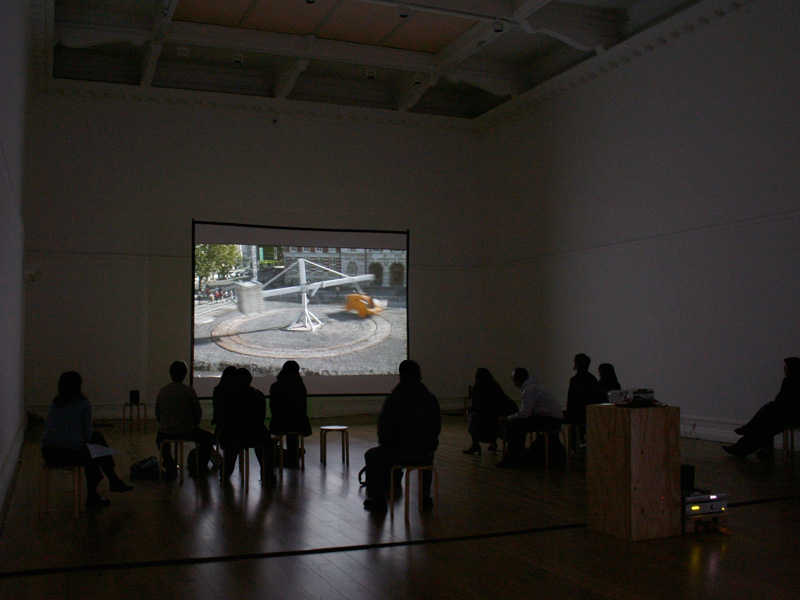 Counterweight (2007)
Single-channel video/documentary
DVD (HD) PAL 16:9, stereo, 29:29 min
HDV Master
"A fascinating document on the building of last year's amazing gallery project, 'The Flying Steamroller'. Utilising a simple but accurate counterweight system, American performance artist Chris Burden's bright yellow steamroller really did fly. Seen in the flesh it must have been a truly mesmerising experience.
Knaub's wordless documentary does the outside installation great justice by filming the building process close up – bolts being tightened, panning shots of various metals, etc – before finally pulling back to let us see the final result. The great 48-ton beast rises almost magically into the air and all you hear is the sound of silence. Fabulous."
Derek Adams
Time Out Magazine, No. 1941, 2007
Exhibition & screening history:
URBANEA
25 March – 25 April 2011
Museo del Calzado de Inca
Mallorca, Spain

POETIQUE DU CHANTIER
27 November 2009 – 3 April 2010
Musée-Château d'Annecy
Annecy, France

COUNTERWEIGHT
23 May 2009
OUTPOST Gallery
Norwich, UK

COUNTERWEIGHT (Premiere)
6 November 2008
South London Gallery
London, UK
DVD Edition: The screening coincided with the publication of a limited edition (250) DVD package of the film. The inlay includes a transcript of an interview with Chris Burden conducted by Thorsten Knaub at the time of making the film.
Details of how to purchse the DVD you can find here.